Confident, Cool & Comfortable - Exploring the Exciting 2019 Jeep Renegade Crossover SUV
With adventurous driving-capabilities, a connected interior cabin, eye-catching good looks, and an undeniably-youthful spirit, the new and improved Jeep Renegade model stands alone within the competitive and crowded world of crossover SUVs.
First unleashed into the world in 2014, the Renegade represented a bold new step for this popular automaker. It's the smallest model found within their lineup in fact, and it embodies much of which currently defines the millennial-market of car-shoppers out there today. However, for the latest model-year, it is clearly evident that the 2019 Jeep Renegade is all grown up now and was dramatically-refreshed for the better.
With all of the technology, comfortability and versatility that you need from a modern-day SUV, combined with its inherent 'Jeep-ness', the 2019 Jeep Renegade crossover model certainly becomes quite tough for our customers to resist!
Take a Look At What's New
We just mentioned that the latest Renegade model is now all grown up for the 2019 model-year, and this is largely due to its tasteful redesign and more-mature overall look that designers gave it. While some called it a tad baby-faced when it first hit the market, the 2019 Renegade is now much more mature-looking and sophisticated than it appeared in the past. Thanks to subtle tweaks and tasteful re-sculpting of its lines, curves and angles, the bold new Jeep Renegade will indeed make a commanding impression wherever you drive. Bigger wheel-options to work with also help it achieve this cool style and this newfound sense of maturity.
Moving beyond appearances, the new Renegade also boasts an entirely-new turbocharged engine under the hood as well! More on that will follow.
Take your pick from the following cool color-schemes; Sting Grey, Alpine White, Colorado Red, Omaha Orange, Slate Blue Pearl, Granite Crystal, Bikini, Glacier Metallic, Jetset Blue Metallic, and Black.
And trim levels include the Jeep Renegade Sport, Latitude, Limited and then the uncompromising Trailhawk®. Which will you take out for a test-drive?
Commanding Off-Road Capabilities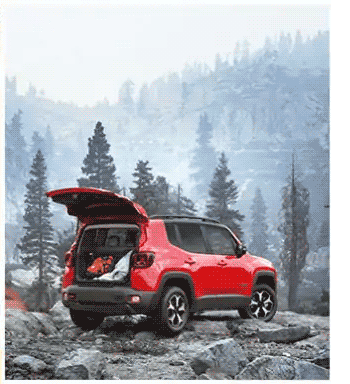 This is that "inherent Jeep-ness" that we were talking about previously. There's no big shock at all that the new Jeep Renegade is more than ready to tackle harsh terrain found on an off-road trail, as superior off-road prowess has always been a key part of the brand's DNA and widespread appeal.
All trims of the 2019 Renegade can be equipped with the automaker's praised and proven Jeep Active Drive 4X4 System and also the Selec-Terrain® Terrain Management System. Thanks to these two, the latest Jeep Renegade SUV proudly possesses the best-in-class off-roading abilities amongst all of its biggest rivals. Again, no surprises here.
Consider kicking things up a notch even further with the Jeep Renegade Trailhawk® trim, which takes off-road capability to new heights altogether for this model. This trim level offers an advanced Trail Rated Active Drive 4X4 System, 8.7-inches of ground clearance, sturdy skid plates, a confident crawl-ratio, outstanding angles for approach/departure/breakover, and the Hill Descent Control feature too.
For this compelling price point, this is just about as close to ferocious, Wrangler-esque off-road capabilities as you can get!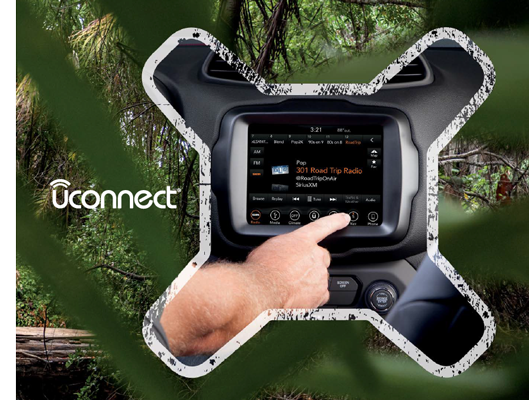 High-Tech Creature Comforts & Safety Systems
Even though Jeep-owners thoroughly enjoy their time spent navigating a rugged trail off of the beaten path, the reality is that most of your time spent behind the wheel will be on paved roads. Whether you are driving in bumper-to-bumper traffic, or cruising along an open highway, the well-equipped Jeep Renegade will always keep you connected, comfortable and content on-the-go.
The brand's intuitive Uconnect® System offers the likes of both Apple CarPlay™ as well as Android Auto®, which will make things genuinely effortless when you'd like to connect to your smartphone and compatible mobile applications. And the available BeatsAudio Premium Sound System offers a booming soundtrack in crystal-clear quality while you drive. Luxurious leather is available for those with a taste for the finer things.
Also available is a Jeep-exclusive MySky Sunroof feature, which includes panels that are completely removable, indeed paying direct homage to the removable roof of the iconic and classic Jeep Wrangler SUV.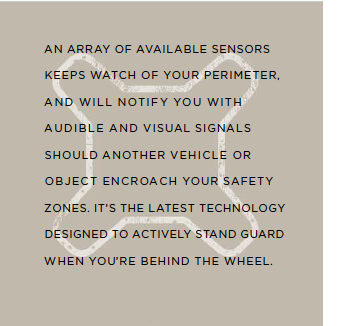 To help keep you from harm's way, the 2019 Renegade offers standard Lane Sense Warning-Plus, Intelligent Speed Assist, and available Forward Collision Warning with Active Emergency Braking among other safety features.
Which Engine is Right For You?
Under the hood, Renegade-buyers will have two compelling engines to choose from and there really isn't a wrong choice to make.
The standard is a 2.4-liter MultiAir four-cylinder engine with an impressive 180 horsepower and 175 pound-feet of torque. We promised there was more to follow about the brand-new turbo engine that we mentioned, and here it is; the 2019 Jeep Renegade offers an all-new 1.3-liter Turbocharged four-cylinder engine that delivers up to 177 horsepower and also 200 pound-feet of low-end torque for your driving thrills. With either engine, the Renegade always provides a spirited and lively driving personality, in a consistent and reliable fashion too.
Key Takeaways to Consider
You will have to look elsewhere for the most powerful (that's the Grand Cherokee), the most off-road capable (the Wrangler), or the most-luxurious (we're talking incredibly expensive, exotic-type luxury) crossover SUV model available today.
But, you can look no further if you need a confident, cool and comfortable new crossover SUV that you can count on - you've found it in the 2019 Jeep Renegade.