Hours
Monday

09:00AM - 08:00PM

Tuesday

09:00AM - 08:00PM

Wednesday

09:00AM - 08:00PM

Thursday

09:00AM - 08:00PM

Friday

09:00AM - 08:00PM

Saturday

09:00AM - 07:00PM

Sunday

Closed

Larry H. Miller Charities Tucson

Formed in 1995, Larry H. Miller Charities (LHM Charities) is a nonprofit foundation that functions as the charitable arm of the Larry H. Miller Group of Companies. Assistance from the foundation is directed toward groups and programs based in the communities where Larry H. Miller companies conduct business. Attention purposely focuses on issues that affect women and children, with an emphasis on health and education.

Funding for LHM Charities enables the foundation to continue making an impact. Funds are generated through employee contributions and matched by LHM Charities to double the impact in the local community.

The Larry H. Miller dealerships came to Tucson in April of 2013, and since then Larry H. Miller Charities has assisted a multitude of organizations and worthy causes right here in the Tucson community. Check out this article from Tucson News Now!

Larry H. Miller Chrysler Jeep Tucson has also had the opportunity to help local schools through the Chrysler "Drive for the Kids" program as mentioned in Tucson News Now and for the Sonoran Science Academy, shown on our community page.

---
Here's a slideshow with some of the donation photos we've collected over the past couple of years. We look forward to many more! If you'd like more information about any of the Tucson community charities we've donated to, please click their name in the list on the right to learn more about them, to make your own donation or to find volunteer opportunities.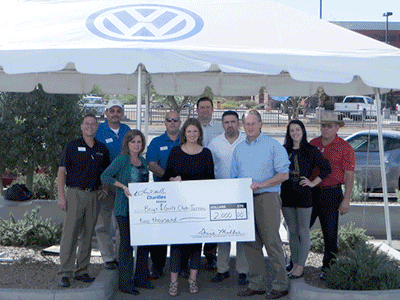 BOYS AND GIRLS CLUB

FRIENDS OF SAGUARO NATIONAL PARK
LITERACY CONNECTS
WINGS FOR WOMEN
CAMP SOARING EAGLE
EMERGE CENTER AGAINST DOMESTIC ABUSE
KELLOND ELEMENTARY PTO
NOURISH
OLD PUEBLO CHILDREN'S SERVICES
SALVATION ARMY
SHOP WITH A COP
SPECIAL OLYMPICS AZ
SYMPHONY WOMEN'S ASSOCIATION
YOUTH ON THEIR OWN
THE HAVEN
Camp J


For additional information please click to download the pdf and read any of our LHM Tucson Charities newsletters below.

Thank you for visiting our charity information page to learn more About Larry H Miller Charities at Tucson Chrysler Jeep. We're so honored to have the opportunity to help so many worthy causes in our Tucson community.
For local contact names and donation request guidelines,
please download the PDF here.