The 2020 Jeep Gladiator: A Returning Champion, Ready to Take on the Truck Competition
The Jeep brand has amazed people for decades now through their lineup of dependable and capable SUV models, but you might not realize that this brand used to lead the way in midsize pickup trucks as well. In the upcoming 2020 Jeep Gladiator, the Jeep brand takes a step back into the midsize truck market, with this new midsize pickup determined to lead the charge among its competitors. Based on what we have seen so far, the Gladiator boasts a taller and longer stance than many of its contemporaries, with a style that is unique to the Jeep brand, modeled after the Wrangler. The Jeep Gladiator returns as a rebranded model to the pickup truck market, having previously existed as a full-size pickup from 1962 to 1988.
The Jeep Gladiator recently went into production and is expected to be available for purchase or lease soon. This midsize pickup truck comes available in four trim levels: Sport, Sport S, Overland, and Rubicon.

A Familiar and Versatile Design!
You may recognize the design of the Jeep Gladiator as it is based on the design of the Jeep Wrangler, complete with all of the versatility which made the latter SUV so popular among adventurers. As such, the Gladiator is made from lightweight, yet durable, aluminum, with detachable doors, a detachable front windshield, and a stowable Sunrider soft-top or available hard-top roof, in order to give you that classic open-air experience. Its frame is made from a more lightweight aluminum material, which is designed to lower the overall weight of the truck as a whole, thus, lowering drag and excess fuel consumption, without compromising the overall safety and durability of the frame in the event of an impact.
Along with this recognizable frame is the cargo bed, which gives this Jeep its pickup truck credibility. This cargo bed you will find to be quite useful and durable when it comes to hauling the heavier items in life and it comes available with an external 400W power outlet to connect external tools if the need arises. The integrated tie-downs and under-rail bed lighting help this pickup to prove its usefulness in a variety of settings as does its maximum 1,600-pound payload capacity.
Power and Performance When You Need Them Most!
The versatility of this truck begins on the outside and continues into its engine. The 2020 Jeep Gladiator offers a great deal of powertrain to keep this midsize pickup truck ion-step and a viable competitor with its contemporaries. Underneath the hood of most trims you will find a 3.6-liter, 285 horsepower Pentastar V6 engine which generates 260 pound-feet of torque and features Engine Start-Stop technology for increased fuel saving s in the long-term. This engine is designed with low-end torque in mind, which is essential in any truck or SUV for it to boast off-roading capabilities. This engine comes paired with a six-speed manual transmission, though an eight-speed automatic transmission is available, depending on your skill set with a transmission.

If you are someone who appreciates the feel of a good diesel engine, then you might also appreciate the feel and efficiency of a good diesel engine, then you might enjoy the other engine which will become available on the Jeep Gladiator in 2020: a 3.0-liter, 260-horsepower EcoDiesel V6 engine, which delivers 260-horsepower and 442 pound-feet of engine torque. The EcoDiesel V6 engine will utilize a turbocharger for enhanced low-friction performance to improve fuel economy and lower greenhouse gas emissions.
Ready for Adventure and Excitement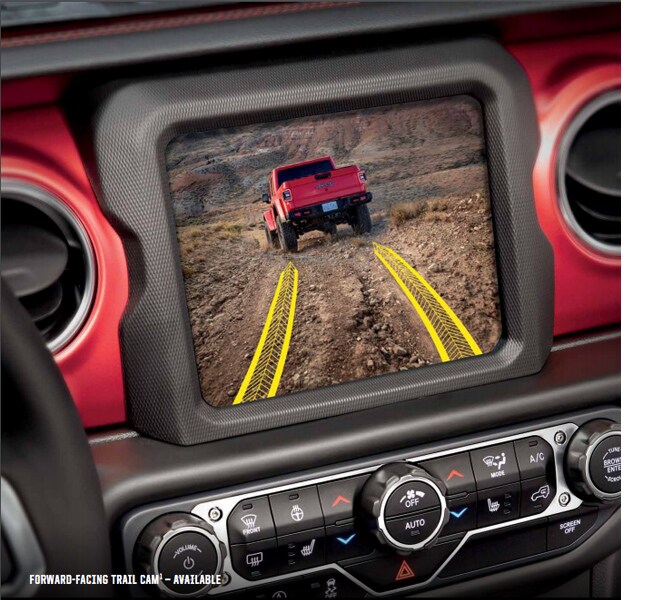 As with the Jeep Wrangler, the new Jeep Gladiator is a truck you can take with you virtually anywhere, whether taking that more treacherous trail up a hillside pass or discovering a new hunting spot. The Gladiator will feature two available 4X4 off-roading systems. The Sport and Overland trims will utilize a Command-Trac 4X4 system with Dana 44 front and rear axles, while the Rubicon trim will use a Rock-Track 4X4 system with Tru-Lok locking differentials, and electronic sway bar disconnect. Both of these 4X4 systems offer adaptable suspension and highly articulate movement on a variety of surfaces, with technology in place to help you regulate torque output to the wheels and use it more effectively when needed.
An available Trac-Lok limited-slip differential helps you to accomplish this most effectively, as activating it provides maximum torque to prevent wheel slipping and provide maximum grip when driving through sand, snow, gravel, or ice. The 4X4 systems of the Jeep Gladiator, combined with its high ground clearance, enable this midsize pickup to take on up to 30 inches of water fording and give the Gladiator a maximum towing capacity of 7,650 pounds.
Comfortable and Tech-Savvy on the Inside!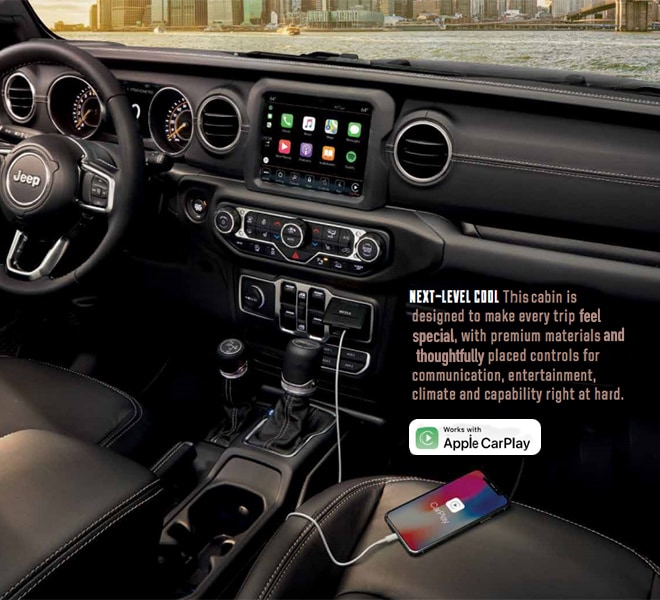 While the Jeep Gladiator is made for adventure, there will always be time to experience the thrills and comfort of this crew-cab pickup truck no matter where you go. The Jeep Gladiator has all of the makings of a useful adventure vehicle as well as an ordinary street-worthy pickup truck, which is reflected in its interior. The new Gladiator features ample space for passengers with a five-seat capacity and lots of leg room, no matter where you sit. Planning a camping trip with a friend? Then you might enjoy the clever storage compartments throughout the truck, including under-seat compartments, mesh door pockets, and cell phone pockets. The interior upholstery can be styled with your choice of cloth or leather, and its front seats are quite athletic, but with settings to boost comfort, including available lumbar support and available heat settings.
If you are looking to plug in your phone and turn up the music as you drive, you might be impressed by the fourth-generation Uconnect multimedia system, which comes standard with Apple CarPlay and Android Auto, as well as a seven-inch LED touchscreen display. On the dashboard, the instrument cluster will feature a seven-inch thin-film transistor (TFT), allowing you to monitor current media playing, tire pressure, speed, and other important applications on the Jeep Gladiator. The Jeep Gladiator features a forward-facing off-road camera for the most optimal line of site on the trails ahead, while other trims feature a standard backup camera.
The 2020 Jeep Gladiator is expected to make a big splash in the midsize pickup truck lineup when it becomes available later this year. Be sure to pre-order yours today so you do not miss out on this dependable and capable returning champion to the Jeep lineup.
Compare the Jeep Gladiator vs the Competition